Archive for the 'stream' tag
I concur with the message of this song. Alcohol is a helluva drug.
TNGHT, comprised of LNM favorites Lunice and Hudson Mowhawke, drops their self-titled EP June 23/24 on Warp and LuckyMe. I've been looking forward to this collabo project since reading about their debut at SXSW a few months ago. The preview sounds like the wait is going to be well worth it.
I hope that these dudes' tunes don't get lost in all the "trap" hype that's been brewing on the internet. That would be a shame. These guys have definitely been on some next level shit for a minute now, and that should be recognized.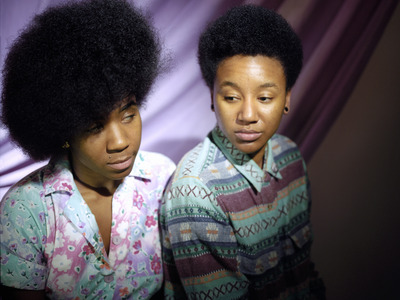 Go to NPR and stream the entire album for free while you still can. Then, after you fall in love with it, go and pre order that shit. awE naturalE hits the streets March 27th.
You might recall me recently showing some love for Glasgow stalwart Hudson Mohawke and his freshly released Satin Panthers EP. But Hudson Mohawke isn't the only dj/producer from Glasgow that deserves some shine. In fact, Rustie has been making quite a name for himself over the past couple years. But even though he's been around for as long as his fellow countryman HudMo has, he is just now set to release his debut LP, Glass Swords, in early October via Warp.
"All Nite" is the first single from the upcoming album. Some might call it dubstep, but I think it goes way beyond what that two-dimensional word tends to encapsulate. Sure, it's got the 140 bpm thing going for it, but whatever. It's a full-bodied banger: melodic and bassy. Dubstep haters be damned. Stream the tune below.
If you like what you hear, you should probably check out Rustie's live 45 minute mix from Boiler Room from a couple of weeks ago, which you can enjoy in video and/or streaming audio format (pretty cool). He kinda tore shit up.
Here's some new music from Toronto's The Weeknd. "Rolling Stone" has that signature drug-induced, minimalist sound that put The Weeknd on the map, but the beat stands apart from most of his other jawns as it relies almost solely on a single accoustic guitar loop. Spoiler Alert: Not unlike most all of his music, this song is about drugs, sex and more drugs.
If you haven't already downloaded the House Of Balloons album and listened to it a thousand times on repeat, you should probably do that now.
Download "Rolling Stone" here.
Update: Hella previously unreleased The Weeknd tracks right here:
Unreleased The Weeknd by k.niteh